Objective: To feed the children and engage them in child development activities that nurture talents.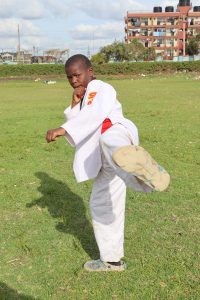 Each Saturday we hold a child development program with the help of caseworkers. This consists of fun activities surrounding a wholesome meal. A nurse is usually at hand to attend to minor medical issues and give health talks to different age groups. Multivitamins and deworming drugs are distributed on a regular basis. The Saturday Programme Coordinator organizes activities including games, clubs, and entertainment with the aim of building a strong NRCF community.
The Saturday Programme is aimed at ensuring a wholistic child development through four pillars;
Psycho-social health:

Child development relating to mental, emotional, spiritual and physical health.

Cognitive development: C

hild development in terms of information processing, conceptual resources, perceptual skill, language learning, and other aspects of brain development.

Social development: L

earning the values, knowledge and skills that enable children to relate to others effectively and to contribute in positive ways to family, school and the community.

Physical development:

Physical skills that use large body movements, normally involving the entire body.